The toughest and smallest aegis
Aegis Pod is the toughest yet smallest device newly added to the Aegis series. First IP-67 rated Type-C charging Pod Vape in the industry, redefines shock proof technology with improved impact toughness, notch toughness and fracture toughness. Weighing just 73g, it's designed to fit into any jeans coin pocket. Matches with new modular G.Coil system, it assures future-proof cross compatibility with upcoming same level of products (5W~20W) from Geekvape. The G.Coil Pod-Formula is made to chase the best flavor, designed to perfect leakproof tendency and capable of enhancing most types of salt nic juice.

Do not re-charge when the Type C port is wet.
Enhanced Shockproof Tech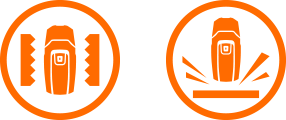 Anti-fracturing
Designed to absorb sudden energy from accidental dropping
Anti-deforming
Evenly distribute stress
Anti-propagation
Enhanced thickness with 1.77cm outer Zinc alloy sheilding
Smallest & Lightest Aegis

Lightest Aegis, weighs only 73g
Thinnest Aegis, measures 1.77 cm
Modular design - G.Coil
Pod formula

Modular design
Future-proof compatibility with upcoming
Geekvape starter kits
Refined Kanthal

Extended lifespan
Built to last 4 x 3.5ml refills
Higher consistency
Same flavor experience throughout
coil lifespan